How is it possible we are halfway through 2018 already? I'm not sure where the time goes but I can tell you not a minute of it is wasted at Joseph's House.
House staff and volunteers are taking full advantage of the weather with many outings to parks, outdoor life-skill classes, and attending events such as a recent movie night at Lemoyne College. Senior staff is busy writing grants, planning Baby Bottle Drives, working on our fifth anniversary dinner as well as on the expansion of our Exodus program and meeting with our benefactors. Joseph's House is driven by all of the people Our Lord so graciously sends our way from our daycare and life-skills volunteers, to our in-house staff, our senior staff, our Board of Directors and our Junior Auxiliary students We are forever grateful to all of them for without them, we simply do not exist. Our residents had the chance to stay cool this really hot weekend by enjoying Green Lakes State Park Beach!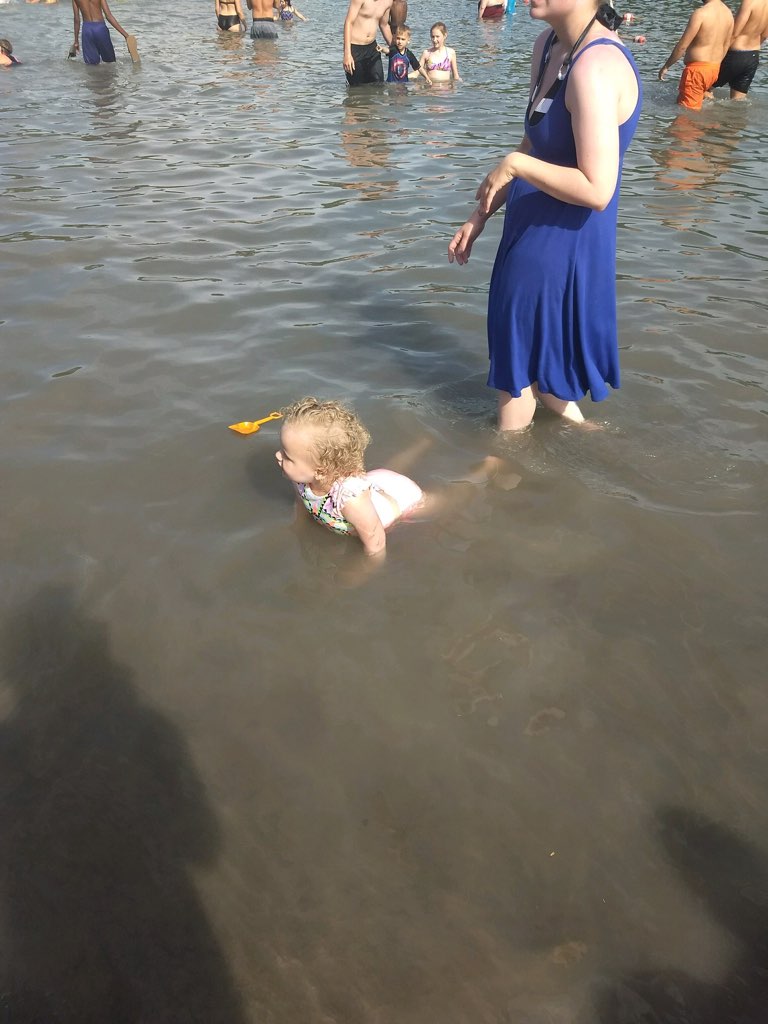 Our newest mom is expecting her first child in four months. She came to us from a community resource center as do many of our moms. She is an example of the type of mom who has the potential to be another Joseph's House success story. She is a follower of our rules as she has learned not following God's rules has consequences. Consequences including being homeless and pregnant without any support. She is no longer all alone, she now has a roof over her head, food on the table and help navigating her pregnancy because of Joseph's House.
She is up early each morning and although she has only been with us a week, she has found a job and enrolled at Bryant and Stratton College. She is tremendously independent, upbeat and a go-getter however she still needs the support, encouragement and skills provided by all our staff to keep her on track and moving forward. We are blessed to have her as she is the type of mom who makes our days bright and is a role model to others.
So how about you? Are you a rules follower? I can honestly say it took many years for me to realize following the rules is much easier than not following them. Who would ever believe true freedom is found in following rules? Independence is gained, respect is garnered, happiness and joy prevail if one only follows the rules. This unpopular truth certainly sounds counter cultural in this day and age.
The rules I am speaking of here are the rules of God, and the greatest rule of all. As Jesus told the Pharisees"'Love the Lord your God with all your heart and with all your soul and with all your mind.'[a] 38 This is the first and greatest commandment. 39 And the second is like it: 'Love your neighbor as yourself. 40 All the Law and the Prophets hang on these two commandments."[b] Matthew 22:36-40
This rule is the guiding light of our mission and our home. As we follow all of God's commandments especially His greatest one, we find we grow in unshakable faith. This gift of faith has been given to us as we follow His mandates and it arrives with the expectation that in His service with much discernment, we will always go out on limbs, make bold statements and speak the truth in faith in all we say and do, whether or not it is convenient or whether or not it is politically correct.
In today's gospel story Jesus is ridiculed by the crowd when He tells them the synagogue official's daughter "….is not dead, but asleep" and then tells the synagogue official, "Do not be afraid; just have faith."
The hemorrhaging woman had so much faith in Jesus she said "If I but touch His cloak I will be healed." And as she grazed his clothing with her hand Jesus was aware the power had gone out of him and He told the woman "Daughter your faith has saved you. Go in peace and be cured of your affliction." Mark 5:21-43.
This is the depth of faith we constantly pray we cultivate at Joseph's House, the depth of faith we hope to instill in our moms and little ones. It's not easy at times as there are constant setbacks and countless hardships affecting the moms and children we serve. However, each time we take on a problem we don't believe we have the capacity to handle, our Lord gifts us with an unexpected resolution we would have never thought of ourselves. He is always lining up the dominoes in heaven for those who follow His rules, step out in faith and serve Him in joy. When the domino line-up is complete, Our Lord gives His affirming touch and the dominoes collapse in rhythmic precision. This is when problems are solved, miracles occur and we are renewed in our awe and trust of Our Lord and Our Church. How blessed we are to be a part of His heavenly work, to be counter cultural, to speak the truth in love to all those we encounter because in all of this we have found the true freedom only procured in following the rules, the Rules of God.
God Bless you my friends!
Love and Prayers,
Kitty